The brat at soft play: when can you tell them off?
Other peoples children. Hmm. How do I say this without sound like a total bitch? Well… I hate a lot of them! Actually that isn't true, I think what I hate more are other parents and a general lack of discipline around other children. Especially the brat at soft play!
I'm sure most parents have been in this situation when your toddler is happily playing away at toddler group, soft play, the park etc when out of nowhere comes some horrible child, normally older than yours, you will hit, push, snatch from your child. Before you know it your child is crying and some little shit of a child is there in front of you and their parent is nowhere in sight. And you are left with the dilemma. Can you tell off other people's kids?

Case in point. Today we are at soft play, Harrison is playing in the smaller children section and going down the slide. Along comes exhibit A, the brat. This boy is at least a year older than Harrison and definitely shouldn't be in the smaller section. And he hits my son. Not just a smack, a repeated continuing hitting around the head. Now I had been watching Harrison, he hadn't done anything wrong, this kid literally came up to him and started on him. I, of course, pounced. I will admit I saw red and wanted to give the boy a smack. But I stayed calm. I picked Harrison up and looked around waiting for the appropriate parent to step up and tell off their son. There is nobody, literally in this section there is a room full of mothers all with their child looking awkwardly at me but not one of them is this child's parent.
Then I'm left with the awkward problem of I want to go to town on that boy. He was being a mean bully to a much younger child. That is not ok. He needs to learn that that isn't ok.
I'm pretty happy with my response, I told him off, probably not as strongly as I would have told off my own child for that kind of behaviour. But I told him off, there was some finger waving and stern tone of 'you do NOT hit other children' and I'm ashamed in hindsight to say I think I called him a horrible boy. And I do tell bad about that but honestly I was raging at him inside my head, I called him much worse than horrible inside my head. Because it's tricky. It is frowned about to tell of other peoples children, isn't it?
My question is where was that boys mother?! Why was she not watching him? It is not my job to have to tell him off. And I'm still sort of inclined to say it isn't my fault. I don't think I would be happy if I saw someone  else telling off my son, but then again I like to think that even if I am talking to a friend I am still keeping a spare eye on him enough to notice if he had made another child cry!
And don't even get me started on the girl at toddler group last week who was following my friends  daughter around taking every toy she picked up away from her whilst her mum enjoyed a cup of tea on the other side of the room.
What do you think? Was I wrong to tell that child off? Are softplay/toddler groups a chance you take to sit down for a catch up whilst your kids play? What would you think if a stranger told off your child?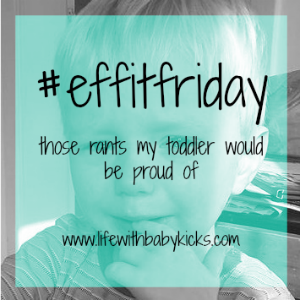 You May Also Like
5 Comments